It has been awhile since I have posted so I figured it was time to do a quick catch up post of what I have been doing for the past five weeks or so.
At the very end of September, I moved into a new flat in Stirling. It was a little sad moving out of my old flat. I had lived there for almost two years, which made it the longest I have lived anywhere on my own and the 3
rd
longest if you include where I lived with my parents. While it wasn't the nicest flat, it had a great location and suited my needs fine.
My new flat is great though. I'm renting it from a friend who is giving me a pretty big discount from the going rate for a flat in the building. The flat has a great view of the Wallace Monument and the surrounding Ochil Hills. It has also cut my commute to work in half, from six minutes to three. The downside is that you just can't pop out to a nearby shop if you need to quickly pick something up.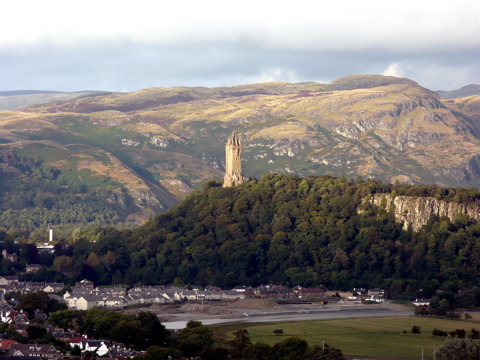 Similar to the view from my flat
In early October, I went to the Alfred Dunhill Links Championship in St Andrews. It is basically the European equivalent of the AT&T Pebble Beach Pro-Am. I got to see John Daly and top European golfers like Rory McIlroy, Luke Donald, Lee Westwood, Colin Montgomerie, Padraig Harrington, and Graeme McDowell. By chance, I also watched Huey Lewis a lot. I can't believe how much I have seen Huey Lewis playing golf. I'm pretty sure he started to recognise me by the end of his round.
John Daly teeing off at the Old Course
Also in October I took a day trip to visit York. I was born in York Pennsylvania, which is named after York England, and much of my family lives there so it was kind of like I was "going home". I visited York Minster, York Castle, The Shambles and the Jorvik Viking Centre. The Viking Centre was pretty interesting. It had a ride that took you through a reconstructed Viking town. They piped in this smell so it smelled like what a Viking town would smell like. I had a great pork sandwich from the York Hogroast for lunch.
The Shambles